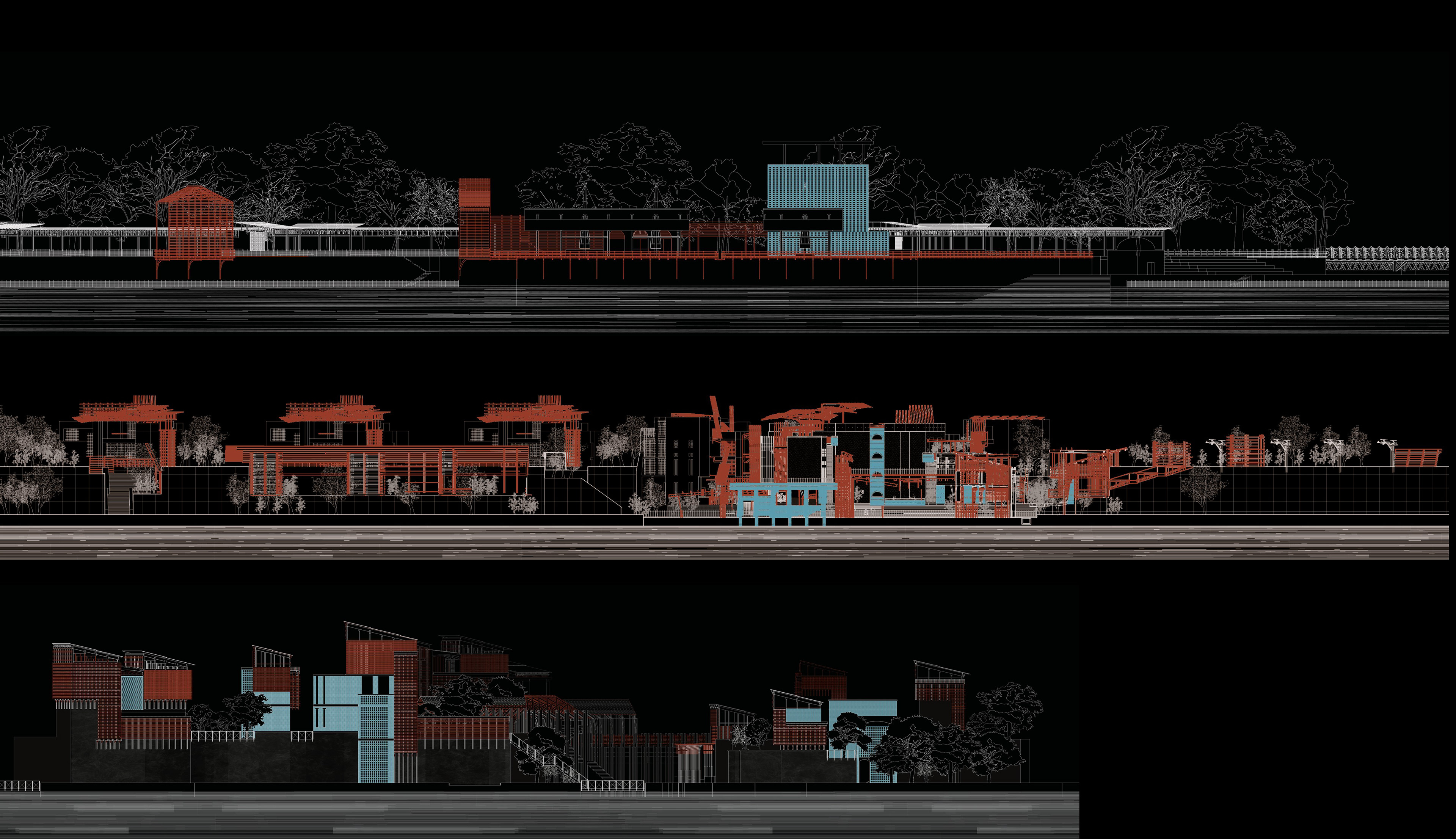 Narratologies of Ahmedabad
Para-situation [Ahmedabad]​​​​​​​
"Past, Present and Possible"
By Pamela Feng, Jamie Forde, Vsevolod Yurchenko
Narratologies of Ahmedabad is an architectural proposal based on the inquiry into stories that haunt the city. Traced through narrative figures, structures and places, as well as our own narratives, our proposals draw out a possibility for the future while remaining grounded in the enquired narratologies of past and present.

As outsiders, we uncovered Ahmedabad through the event of The Salt March, an act of non-violent resistance led by Mahatma Gandhi in 1930. Through the study of body and building posture the relationship between the perception of narrative event and architecture was discovered. The anatomy of narratological absence and presence resulted in a series of tectonic speculations in hauntology.

Through exploration and measuring, the unique constitution of the present Ahmedabad was revealed. On a city scale, when put in series, the analyses of the various city territories display narratives of past visions for Ahmedabad, which today are sensed like disparate fragments strewn across the carpet of the city. The proposed Sabarmati City affords the space to bring the fragments together constituting a new possibility for Ahmedabad.
The new assemblage for the Sabarmati City hauntology is tested technologically and ecologically through three projects: Dandi Crematorium, Sabarmati Pol and Sabarmati Business District offer programmes of life and death, dwelling and community, and economy and environment. The new series of enzymatic territories parasite as an architecture of non-violent resistance to neo-liberal compulsions along the riverfront wall to re-engage with wetness to reintroduce the liminality between city and Ganga.
Master of Architecture with Distinction, Class of 2021 [Pamela, Jamie, Vsevolod]
ESALA Postgraduate Prize Best Overall MArch Students, July 2021 [Pamela., Jamie, Vsevolod]
RIAS, Architecture and Design Scotland Urban Design Award Nomination, August 2021 [Pamela, Jamie, Vsevolod]

Para-Situation Ahmedabad Studio, Master of Architecture, ESALA, University of Edinburgh. 
Course Organiser: Dorian Wiszniewski
Course Tutors: Dorian Wiszniewski; Kevin Adams